Introduction
Document scrutiny is a critical task, especially for authorities handling millions of applications for entrance exams, admission processes, and other government or private job applications.
Currently, authorities are responsible for verifying a range of documents, including Pan Card, Aadhaar Card, Category Certificates, Ration Card, Academic certificates, leaving certificates, birth certificates, land documents, house registration documents, and more.
⏰Manual Verification is Time-Consuming
Manual verification of these documents is not only time-consuming but also prone to errors, leading to delays in processing applications and admissions.
Are you tired of spending hours manually scrutinizing admission documents?
Do you want to improve the accuracy of your verification process and reduce the time taken to generate the merit list?

Look no further than DocuExpert – the AI-assisted document verification solution that simplifies the admission process!
🤖 Automated Document Verification
DocuExpert automates the document verification process by extracting, comparing, and analyzing information from any custom document. It eliminates the need for manual intervention, making the verification process simple, fast, and accurate.
🔎 Why Use DocuExpert?
With an API-driven platform, DocuExpert verifies the content of documents and helps you automatically scrutinize them. By eliminating manual processing, improves the accuracy of the verification process and reduces the time taken to scrutinize documents.
👨‍🎓 Case Study: Centralized Agri Admission Process
The central authority which manages the centralized Agri admission process had a tough time scrutinising the admission documents to generate a merit list. The process was erroneous and time-consuming.
DocuExpert was used to verify more than 1,20,000 documents for the Centralized Agri Admission Process in Maharashtra. With more than 180 colleges participating in the admission process, and over 50,000 students applying, manual scrutiny of documents was time-consuming and not always accurate.
🎓 What Documents do Students Submit?
Students usually attach 5 to 10 digital copies of admission documents with their online application forms. These include mark sheets of 10th and 12th, category certificates, leaving certificates, income proof (in case of scholarship requests), and more.
👨‍🏫 How is Document Scrutiny Done?
Currently, admission teams manually scrutinize these documents, which is time-consuming and not always 100% accurate. Typically, it takes 5 to 10 minutes to verify the documents and correct the information on the admission form.
🚀 Enter DocuExprt – The Game-Changer 🚀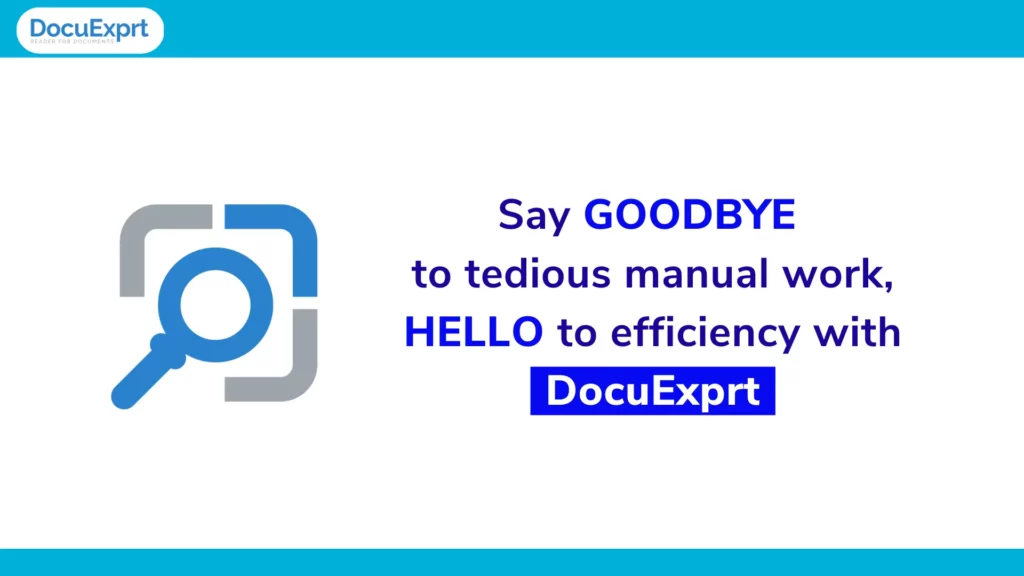 DocuExpert is an Auto Document AI Reader that eliminates the need for manual scrutiny. With DocuExpert, the admission team can verify thousands of documents with 100% accuracy in a matter of minutes! Say goodbye to tedious manual work and hello to efficiency!
DocuExpert eliminated the need for manual verification of documents such as category/caste/agri certificates and mark sheets, improving the accuracy of the merit list and making the admission process more professional.
Time is required to verify documents and then the merit list generation process becomes simple. Authority is able to deliver an accurate merit list in time even though thousands of admission application documents were to be verified.
Manual verification of documents is eliminated completely, which resulted in saving on costs related to the admission process.
Here is the list of the documents which are auto-verified by DocuExprt-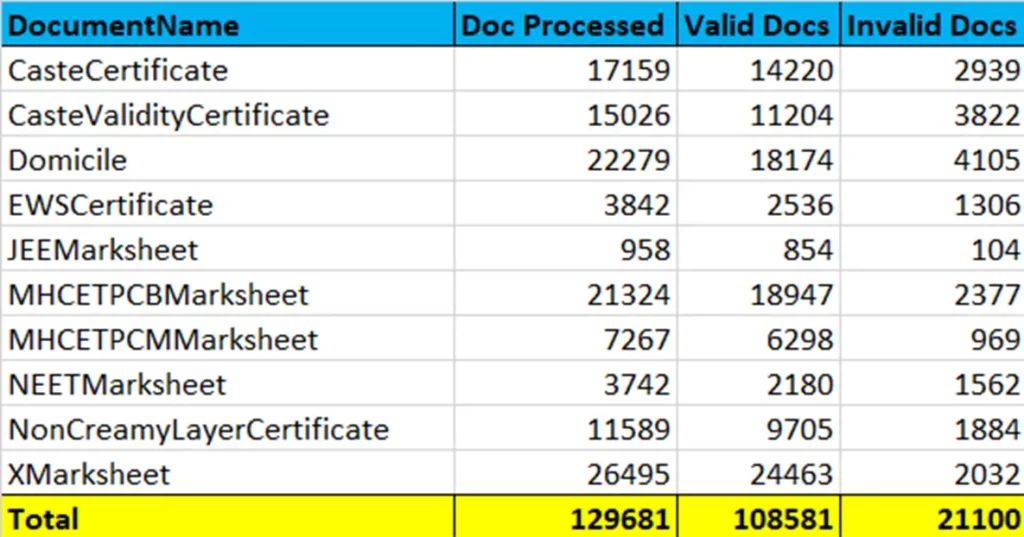 👍 Testimonial
"DocuExpert has helped us simplify the scrutiny of admission documents with high accuracy. Now we are able to verify thousands of educational documents without any human intervention."

– Centralized Admission Committee, Maharashtra Council of Agricultural Education and Research
💻 Conclusion
If you want to simplify your admission process and improve the accuracy of document verification, DocuExpert is the machine learning-based system you need. Try it out today and see the difference for yourself!